Business Line of Credit
No Cost
No Obligation
24 Hour Approvals
Are you Eligible for Our Online Business Line of Credit (LOC)?
To Be Eligible All 6 of the Following Requirements Must Be True
2
Credit History
Credit History 2+ Year Credit Card 3+ Year Mortgage
3
No Open Bankruptcies Collections Or Liens
4
No Late Payments Within The Past 12 Months
5
No More Than 4 Inquiries Within The Past 12 Months
6
No Change-Offs Less Than 2 Year Old
Fast, Flexible & Simple Unsecured Business Line of Credit from $20,000– $200,000

Rates starting as low as 0%*

24 – 48 Hour Approvals

Capital in as little as 2 weeks for funding once approved

Take what you want – Only pay interest for what you use – Replenishes as you repay

Does not impact personal credit

Easier to qualify than traditional business loans
Financing Your Business with the Clout of Business Credit Cards
Start a new business/Franchise

Acquiring new equipment, inventory or supplies

Create great new products or services!

Working Capital/Expansion Plans
5 Star Trust Rating
Nothing says,
"Thank You" like a written review from
a happy customer
Thank you Vivian!! The loan is pending deposit in my account. Look forward to working with you too in the future! I do appreciate you.
Lynn Webster
Owner/Operator
Quail Ranch of Oklahoma
Thank you again for all the help………..you made it so easy…….and FAST!
–  Tom F
I just want to let you know that it was certainly a pleasure to speak to you. I appreciate the knowledge and instruction that you demonstrated to me. I look forward in working with you.
– D. Griffin
Tri Commercial, Inc.
And thank you both! You were terrific to work with! I really appreciated you both putting up with all my questions and your patience and help!! I couldn't have done it without you!
Chad H.
C. H. Construction
TOP 5 THINGS TO DO
1. Apply Before You Need It. You know the old adge – Banks will always give you an umbrella on a sunny day. Plan ahead.
2. You Need Balance in Your Life.
We're not talking Yoga here. Keep your utilization rate below 40%. Pay down as much debt as possible before you apply. Lower is better.
3. Check Your Credit.
Make sure there are no errors nagatively impacting your credit score. Latest research says 1 in 5 have a material error impacting their ability to get financing.
4. Don't Be A Big Spender
Your approval is initially based on your personal credit. Wait to make any large purchase until after you are approved. Remember to keep your balances low.
5. Don't Shop Until You Drop.
We know you want to make sure you're getting the best deal, however, hard inquiries "kill." No lender wants to see a shopper.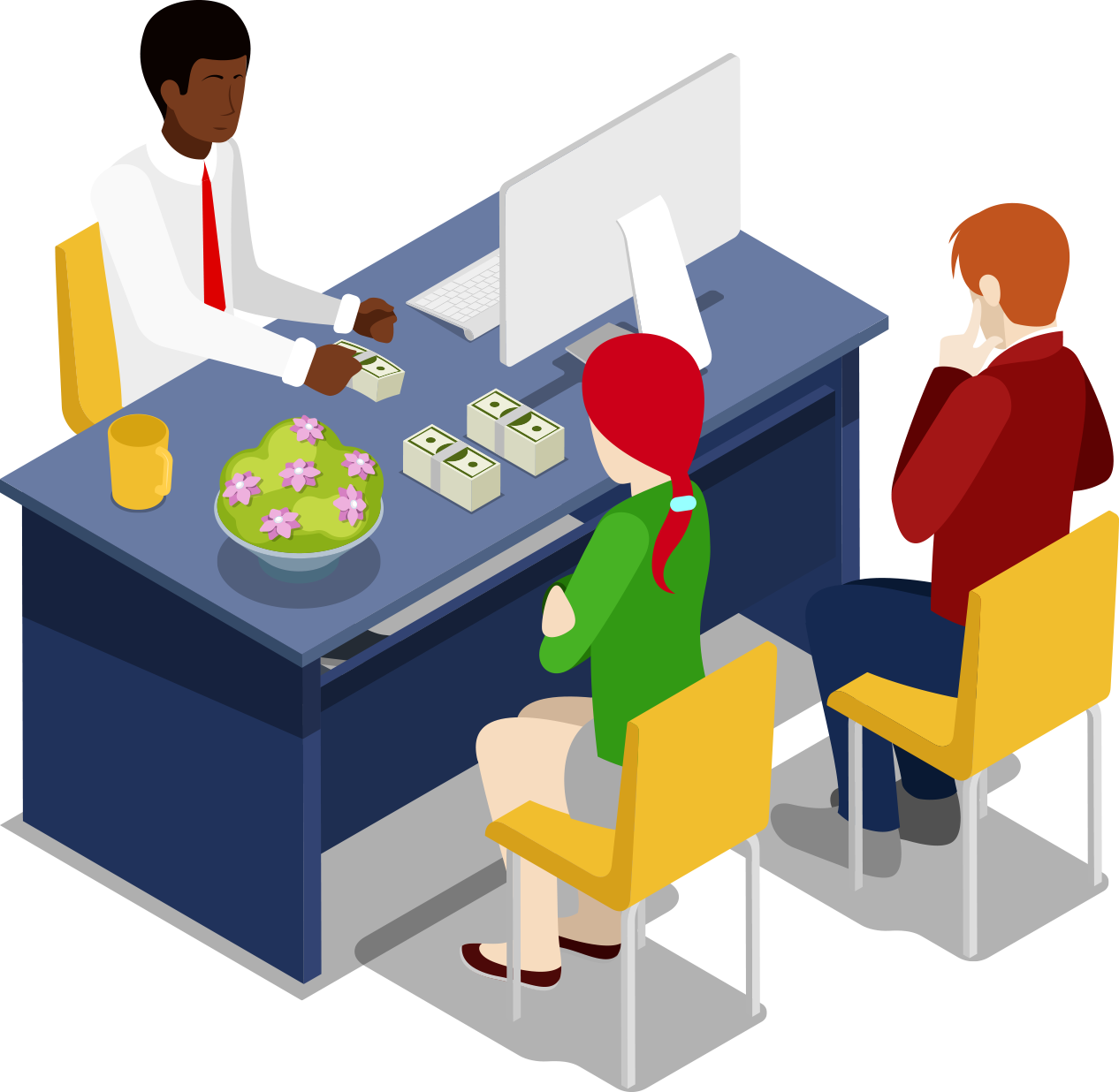 Frequently Asked Questions:
Why can't I do this myself?
You can. I'd be surprised if you don't receive offers in the mail all the time. Right? However, if you're looking for $20,000 to $200K then you need exerts to get you those funds. As they say, "there is a method to the madness."
The difference between you trying on your own and our formula is that we can get you up to 5 times more meaning getting $50K to $200K vs $10K to $40K if you do it on your own.
By letting us go to work for you we can get you the best cards with longer 0% interest, higher limits and lower fees.
Lastly, we make sure that there is low impact to your credit score due to inquiries and possible declines.
Do you do a soft or hard credit pull to check if I qualify?
Soft Pull to determine initial qualification.
What are the income requirements?
There is no income documentation required to qualify. No bank statements or tax returns needed.
Are these business lines of credit secured or unsecured?
This program is entirely non-collateralized, but still personally guaranteed by the applicant.
Is there a lot of paperwork?
The only documentation we need it to verify your business, usually with your articles of incorporation. There is no need for detailed tax returns or financial statements.
Is this going to be a hassle to get it done?
No. Our ex-banking senior underwriters have all the knowledge to do the navigating for you.
How much money can I expect to receive?
The funding is an aggregate program requiring multiple accounts to meet our pre-qualification. The total combined revolving credit lines can range from $20,000 – $200,000 per applicant. If more funding is needed, you can have a credit partner apply. A credit partner can be a spouse or business partner to double or even triple the amount.
What kind of funding is this?
The revolving lines of credit will come in the form of business credit cards and for additional funding we can provide personal cards as well. Each credit application submitted will require a hard credit inquiry. Most or all of the business credit card accounts will not report on personal credit history.
What if I need cash and not credit cards?
Most of our clients need cash. Our experts will show you how to get the cash you need for your business today.
What if I want to consolidate the debt, especially on my higher interest credit cards?
Talk to our team about how to do smart balance transferring.
What is a Business Line of Credit?
A business line of credit is a financial tool that enables any business owner access to cash for inventory, payroll processing, equipment loan, or any other short-term need. For many business owners, the business line of credit helps with managing cash flow. These can be unsecured lines of credit or come with personal guarantees.
What are the interest rates?
Most or all of the lines of credit carry a 0% introductory rate for anywhere from 6 to 24 months. We stipulate the interest rate in advance, and you will need to accept the terms of each account. After the interest-free period, the average blended rate is 12.99% – 15.99%.
How long does it take to get funded?
The process takes about 2 – 5 weeks, plus or minus, depending on the situation.
What credit score do I need?
Your lowest credit score needs to be over 700. We will provide a conditional pre-qualification within 48 hours. *700+ FICO does not guarantee eligibility.
What if I don't qualify?
If you do not have the personal credit score to qualify you can try to find a credit partner. A credit partner is someone like a business partner, family member or friend who can assist you by guaranteeing the credit lines until you can strengthen your personal credit score. Once you've built your FICO score to 700 or better, you can take over responsibility through balance transfers or other strategies. Over 40% of our business owners start with a credit partner.
Are there any fee's?
We do not charge any upfront fees, unlike some of our competitors, or any recurring fees. A one-time Success Fee is due once the credit lines have been established. This "Success Fee" is a percentage of the total credit lines approved and can be conveniently paid with the new credit cards.
What is the "utilization" requirement on my current credit card balances?
For best results, your existing revolving credit card balances should be at no more than 45% of their maximum limits. Balances can be paid down during the on-boarding process. Sunwise Capital can provide short-term loans or a business cash advance for qualified businesses.
Eligibility
CREDIT SCORE must be over 700 (A FICO score over 700 does not guarantee eligibility).
CREDIT HISTORY must have at least one open revolving bank line account. It must be at least 2+ years old (not a store card) or have a mortgage that is 3+ years old.
NO OPEN BANKRUPTCIES – Exception: Will look at reports with a bankruptcy if your score is above 700 and the bankruptcy has been discharged for over five years without ANY negatives since. We'll need to know which banks are in the BK.
 NO UNPAID/OPEN COLLECTIONS OR LIENS, no unsatisfied tax liens, judgments, or collections, must be cleared before approval. "Unsatisfied" basically means unsettled or un-negotiated. Exception: Open medical collections are sometimes acceptable if other variables are strong – case by case basis.
NO LATE PAYMENTS WITHIN THE PAST 12 MONTHS
NO MORE THAN 4 INQUIRIES WITHIN THE PAST 12 MONTHS including inquiries for revolving credit and MCA financing. If any of the inquiries (up to 4) resulted in too many new accounts, you might not qualify. Exception: Does NOT include inquiries for automobile or mortgage financing. These do not impact our review unless they are excessive.
NO CHARGE-OFFS LESS THAN 2 YEARS OLD
The Sunwise Capital Small Business Unsecured Business Lines of Credit Program
WANT TO JUMP START YOUR BUSINESS?
How would you like to jumpstart your growth and expansion, solidify your revenues, and get the working capital you need?
The Sunwise Capital team are experts at connecting entrepreneurs like yourself with business credit lines to fund your business while protecting your personal credit score.
Our team can help you get between $20K-$200K. These funds are secured for you to meet the startup costs of a new business or to help smooth out your cash flow. Regardless of your situation, this funding can mean the difference between getting the company launched or never starting. Thousands of business owners use this funding vehicle and grow utilizing this program. All we need is a recent credit report to get started.
Why business credit cards?
Business Credit Cards are easily the most available form of funding. These cards benefit all types of businesses: from start-ups to companies with years of revenue under their belt. The unsecured business lines of credit can are perfect for your virtually all of your business expenses.
Acquiring business credit cards is also one of the fastest ways to establish and build a company's credit profile. By creating business credit, you can eliminate the risk to your personal credit score.
Remember, the funding is available for expansion, equipment, advertising, and most any other business expense. Plus, getting the business credit cards will not require weeks of paperwork like traditional bank financing or bank lines of credit.
Can I Get a Business Line of Credit?
Securing business loans means being fiscally responsible. What that means to the business owner is making sure your "house" or books are in order, and you can demonstrate proper cash management. No lender wants to offer a capital loan to someone who cannot manage their finances, either personally or in business.
That's why lending institutions require a personal credit score or FICO of at least 700. The next consideration is whether the borrower has the money to pay it back.
However, just because you have a 700-credit score doesn't automatically mean you qualify for the line.
You need at least one open revolving line and a mortgage that's at least three years old. You There can be no open bankruptcies, judgements or liens. Last, there can be no more than 4 inquiries in the past twelve months. We understand that stuff happens. What we look for is a business owner that can manage the natural ups and downs that every business experiences, especially newer businesses.
Why Sunwise Capital?
It's simple. We'll put you on your Path to Prosperity.