Business Loans Florida
Think about being on vacation 365 days a year. That's what the sunshine state offers.
Business Loans Florida | Palm trees and surrounded by water make this the idyllic retirement destination. Average temperatures range from 60 – 80 degrees, and there's no wonder why it's one of America's favorite vacation hot spots.
Is it Hard to Get Business Loans/Small Business in Florida?
From Palm Beach, Ft. Lauderdale, Miami, and the Keys in South Florida to Tampa, Tallahassee, Orlando and Jacksonville in North Florida, Florida small businesses are booming.
The U.S. Small Business Administration Office of Advocacy states that 98.9% or 2.3 million businesses in Florida are small businesses. These companies employ 3.1 million individuals or just over 43% of the workforce.
Florida business is a serious business.
Over one-third of these firms are minority owned businesses.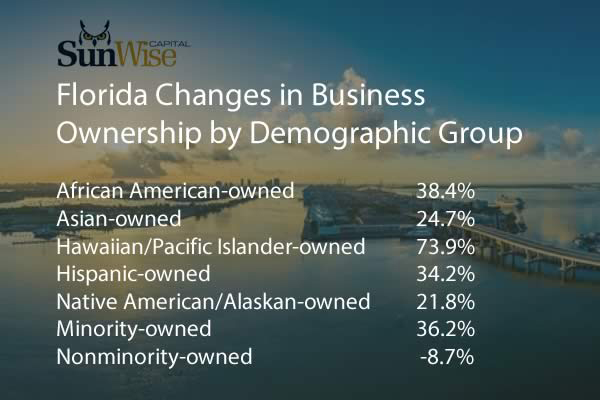 Business Loans in Florida for Women to Start a Business
Women-owned businesses represent about 8 percent of those companies.
Minority Business and small Business Loans in Florida for Vets
Both minority owned businesses and veteran owned businesses are about 9 % and 12 % respectively. Both the minority and veteran entrepreneur populations are critical to the business startup and economic development of Florida.
The Florida SBDC is a business resource for all business owners (from the startup to existing businesses) and states that they are, "the only statewide provider of entrepreneurial and business development services, the Florida SBDC Network plays a vital role in Florida's economic development by assisting entrepreneurs in every stage of the business lifecycle."
The top industries in Florida include healthcare, construction, manufacturing, transportation accommodation (tourism), international trade,  and food services (restaurants, etc.).
Sunwise Capital, headquartered in Deerfield Beach, FL since 2005 stands ready to support all small to medium sized businesses with:
Small Business Loans
Commercial Loans
Commercial Real Estate Loans through the SBA Loans program
SBA 7a Loan program (SBA loans and microloans)
Startup Loans for Small Business
Small Business Equipment Loans
Emergency Bridge Loan Program
Line of Credit
We provide an array of fast and easy business loans that are as diverse as the population. We offer unsecured business loans with 24-hour approvals and next day funding. These loans range from $10,000 to $2M. Our business funding focuses on cash flow and not credit score. As a result, even those with bad credit are not excluded from our business loans.
Our term loans have extremely competitive rates starting at 5.49 fixed rates percent with terms up to five years. Depending on qualifications payments can be made daily weekly and monthly. This gives you the opportunity to grow your business.
Business Loan Requirements to Get Access to Capital
Must own the business – existing businesses only – no startups
Minimum of 6 months of growing revenues
Annual revenue of $150,000 plus
One-page application
Last 3 months' business bank account or checking account statements
Personal credit Score 500+
BEST BUSINESS LOAN RATES GUARANTEED
Our merchant cash advances are some of the most aggressively priced cash advances in the marketplace with rates starting at 1.18.
We offer business loans for people with bad credit. These can be loans with no credit check that include our unsecured and short term loans for those with bad credit.
As a woman owned business, we provide small business loans for women. These loans include business loans for women with bad credit.
There are minority business loans, and naturally, we provide easy veterans small business loans.
We work directly with an SBA bank to offer a pre-qualification for SBA loans in five minutes with funding in five to ten days. SBA loans range from $50,000 to $5M for real estate acquisition with terms up to 10 years to 25 years. let u sput our SBA team to work for you.
Find out today why we provide the best business loans for small companies in Florida.
Florida Success Stories
"Excellent service from Sunwise Capital!
Vivian Kane delivers!"
– Sasha Wolloch
Sasha is a Florida based manufacturer specializing in the electronics industry and international trade.
"Best Rates, Terms and Service."
"Easy to Work With. Loved working with Sunwise Capital!"
– Dan Stein
Dan is a fix and flip real estate pro using our Fix & Flip Loans without using a hard money lender